Many vapers are moving to vape for boosting their health and wellbeing as well as vapers are also addicted to the fantastic and delicious cloud flavors produced by the vaporizer mods.
Vaping permits people to enjoy a broader range of flavors with it vape juice that gives you your desired flavor.
But, the flavor that you get from your vaporizer mod is connected to a host of factors such as the quality of the e-juice, airflow, coil build, and vaporizer mod power. If you need the best flavor from the vape juice, you must ensure that all these features work together.
Today, this article will focus only on one factor for the best flavor production: coils. And we will also take a look at some of the famous and best coil variations for the perfect vape juice flavor.
So, let's get started.
Clapton Coil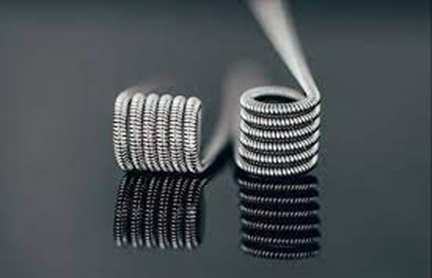 The Clapton Coil is one of the best options when it comes to flavor. In short, a Clapton Coil is a thin gauge wire wrapped tightly to a thick gauge core.
In addition, it has a larger surface area than a regular coil. There can be more vape juice to contact the oil resulting in more gaps between the wires to facilitate more flavors in the vapor with the coil itself as a wicking material.
You can pair this with organic cotton.
This type was mainly used on a sub-ohm tank; however, nowadays, people are using it on an MTL tape.
You can easily purchase the Clapton Coil in the market if you don't have the experience to build a DIY Clapton Coil. The coil is also available in various diameters and resistances to fit the build decks on RDAs and RTAs.
And it is worth noting that Clapton's has a longer ramp-up time than the usual offering that can off-put you if you are a quick user.
Pros:
Plenty of variations
Amazing extraction of flavor form e-juice
Handy to use than the other options
Best Coil for accessible building
Factory coils are available
Cons:
Longer ramp-up time as compared to the standard ones
It can be tough to use for beginner's in the initial stages
Framed Staple Coil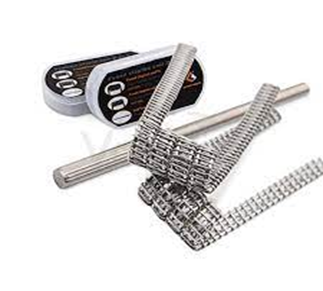 The Framed Staple Coil has an arranged ribbon wire covered by round wire blended by a thin round wire with various cores for flavor features of the vape juice.
Additionally, more pockets (spaces) in the wire decrease the ramp-up time and give you the fantastic flavor of the e-juice.
However, all these will go through the e-juice quicker instead of a toupee on a breezy day.
And since they have low resistance, they are ideal for DTL vaping. Yet still, you would need to familiarize yourself with the battery safety and Ohm's law before you begin to use it as they have pretty low resistance instead of the other coils.
Framed Staple Coil is usually available in two different variants, they are:
Standard version
Another version with the Alien wrapped core
Pros:
Imaginal pleasing
Great flavor and friendly vapor production
Best for flavor and cloud chasers
Works amazingly with any wicking material
Cons:
You need to familiarize yourself with battery safety and Ohm's law before you begin to use
Can be too hot for some vapors
Needs more wattage than the other types
Tiger Coil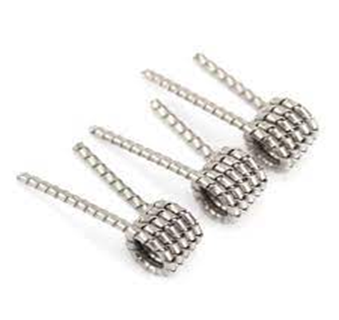 This coil is also worth looking at as there are many different factories in it, and it is one of the best options for those who don't have enough time to build the coil themselves.
Although there's not much to look at tiger, however, it's still capable of giving every coil a run for cloud production and flavor it extracts from the e-juice.
The Tiger Coil is best known as a twisted coil with one flat ribbon stand and a round stand with different wires twisted to give more pockets and grooves.
The coil is expected to generate more heat than a regular twisted coil; therefore, it produces denser that hits better with the flavor.
Pros:
Best choice for those who want the best flavor
Visually appealing
Extracts a good amount of clouds from the e-juice
Cons:
Tidal Wire Coil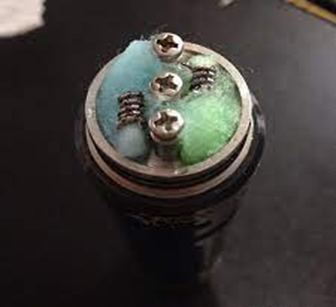 You need four strands of Kantha wire types twisted together to make the Tidal Wire and a single strand ribbon wire twisted in reverse over the Kanthal to get a coil that bears a similar resemblance to a tidal wave.
And due to the spaces in the Kanthal wires, it facilitates quicker heat production, and the ribbon wire supplies the required density to get a massive supply of thick, dense clouds with fantastic flavor.
If you are new to this, we recommend you to use a Tidal Wire only on the regulated mod with a minimum of 65 watts.
Pros:
Amazing production of dense clouds with full of flavor
One of the top suggestions for flavor
Easy to use with little effort
Several variations and quick heating time
Cons:
You need to be careful while twisting the wires to avoid kinks
If you are not accustomed to twisted wires, this isn't the best fit for you
Flat Bastard Coil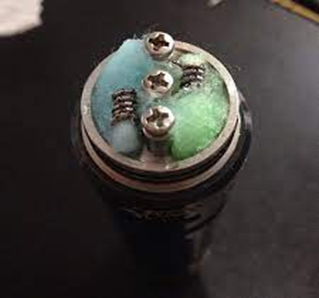 The Flat Bastard Coil is a perfect choice for you if you want to get a coil for your RDA since it offers a good production of flavorful vapor.
You would need a 32-gauge Kantha wire and a ribbon wire to wrap the wire around the Kanthal wire to get started.
Although flat ribbons are excellent at producing fantastic flavor, they also need a long time to heat up on their own.
Thus, to solve this, you need to be twisted 32 gauge on the inside to offer intense heat in a short period.
Pros:
Excellent for beginners
One of the great coils for flavor
Good with any wicking material
Produces outstanding vaping experience to those after flavor
Cons:
The cloud generation isn't sound as compared to the other coils
Hive Coil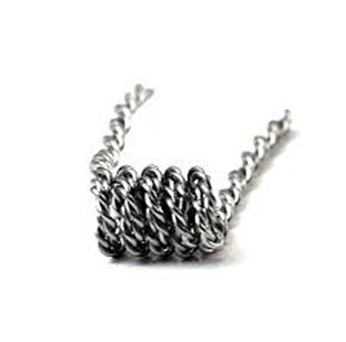 You have to create two twisted wires and then have to weave them together to create a Hive.
Hive is extremely handy to create, and the factory ones boast resistance markings makes them more eye-catching to the safety-conscious.
The Hive is twisted and turned to increase the surface size and has many spaces to allow the flavor from e-liquid to pass through for more flavor.
However, remember that the spaces can cause spit back at times; even some vapes have a particular drip to stop this.
Additionally, similar to some of the listed coils for flavor, Hive is low in resistance; thus, it can't be used for DTL and MTL vaping, although they ramp up fast but aren't quick as round wires.
Pros:
Easy to create
Quick ramp-up
Pre-made Hives with resistance markings available while purchasing
Excellent for flavor extraction from the e-liquid
Cons:
It is not suitable for all types of atomizers
Conclusion
When choosing the best vape for coil flavor, first check out its heat time and building material and then only focus on its appearance.
And understand that it's essential for you to properly understand Ohm's law and battery safety to get the most flavor out of your exotic coils on mechanical mods.
Ensure to check the airflow of your coil, and if whether it's too clogged, it blocks much of the airflow as if you have to adjust the airflow, it also means cooler or hotter vapes.