Candies are everyone's favourite. Especially when they are stoned and laughing. Wouldn't it be fascinating if there was a term for both cannabis and candies combined together? Well, that is what edibles are all about.
Candies and cannabis, a perfect trip to sweet paradise! And the best part is making them yourself to get that awesome experience. With some effort and patience, you will have your edible candies ready to eat.
Not to mention, there are numerous fantastic edible recipes to choose from.
All this time, it was just vaping or rolled cones to enjoy when you are home and want to relax. But now there is something you can enjoy anytime. Edible recipes are also suitable for people who have trouble smoking. Enjoy your time as you like with these easily made edibles!
Not to mention, these Do-it-yourself candies are easy to make.
What Basic Ingredients Are Required to Make Edible Candies?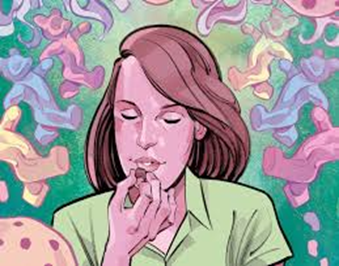 To go ahead with any edible recipe, these ingredients are must to have.
and to make your edibles light in terms of dosage, do not forget to get some cannabis tincture.
To start making your edibles, first, you need to choose either one from THC and CBD. This helps you choose the type of tincture you are required to use for your edible recipe. Use THC tincture for making THC candies. In case you wish to make CBD, candies go for CBD tinctures.
In case it is hard to choose for you, go for both. Use both kinds of tinctures to create a mouth filling taste for you. Simple!
Before you get your hands on some amazing edible recipes, let's talk about the effect of these weed infused candies on you. Remember, it all depends on the amount of weed you will put in them.
That means you have to make sure about the dosing part while getting yourself a tincture. For beginners, it is better to use a mild tincture for your candy preparation. This will be a light dose and a good experience for your first-time candy making.
Edibles are extremely fun to make and eat but it's highly important to take care of your weed consumption. Make sure it doesn't harm you and the quality of your cannabis is good.
Let's Begin with Some Amazing Edible Recipes:
1. Cannabis Hard Candies with THC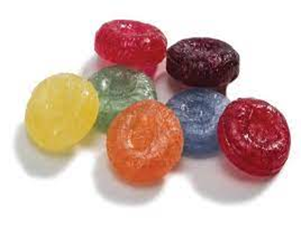 Making Hard candies with THC is one of the easy and quick edible recipes to perform. With minimum equipment and resources, you are all set.
The equipment you will need for these recipes are candy melds or if you have a baking tray it will work too. Other than that, you need a candy thermometer.
This recipe has the simplest ingredients:
2 cups sugar
¼ water
⅔ cup corn syrup
½ tsp flavoured extract
2-3 tbsp TBC tincture (500 mg) 
Optional
Food colouring
½ tsp flavoured extract 
Instructions
Start with mixing the sugar, water, and syrup in a medium saucepan.
Once it starts boiling, stir the mixture slowly until the temperature turns around 250F.
After the mixture turns to 250F, stop stirring it and let the temperature of the mixture come to 350F.
After which you need to remove the pan from heat.
Now it is time for you to add flavour extract, food colouring, and THC tincture. Stir the mixture firmly and pour it into the candy melds or your baking sheet.
Let the mild or the tray settle for a while.
Once it gets hard, it is ready to eat. Enjoy!
2. Cannabis Lollipops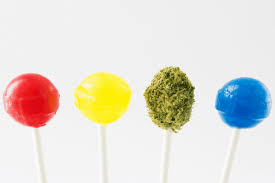 After some delicious hard candies, it is time to get your hands on some luscious lollipops.
Get your kitchen ready with some equipment including a candy thermometer, candy melds, candy wrappers, lollipop sticks and not to forget a saucepan. 
Ingredients that you will require for this edible recipe are:
¼ cup filtered water
1 cup sugar
½ corn syrup
1 tsp butter
2-3 tsp of cannabis tincture
1 tsp flavouring (any flavour of your choice would work)
Let's gather the equipment and ingredients to start making those luscious cannabis lollipops! 
First of all, grease your pan with some butter.
Now just add corn syrup, sugar, and filtered water in the pan and heat the mixture. Keep whisking the mixture while it is on the heat. Make sure the heat is at medium temperature.
Time to add a few drops of food coloring to the mixture. The temperature should be high at this time.
When the temperature reaches 150C, remove the pan from the heat and keep it aside to cool down.
When the temperature is around 112C, add the tincture and the flavor you like.
Now, it is time for you to pour the mixture into the molds. Insert sticks into each of the molds.
Tada! Your lollipops are ready.
3. Cannabis-Infused Hot Chocolate Bombs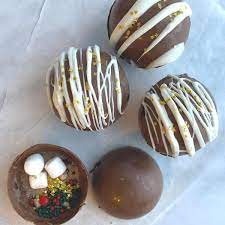 Time for some chocolate to come in your way. Get lost with these appetizing hot chocolate bombs infused with cannabis.
To complete this edible recipe, the equipment you need are a whisk, a spatula, a glass bowl, measuring spoons, double boiler, brownie pop, or cake pop molds, let's not forget your oven mitts.
Ingredients
1 cup dry hot cocoa mix
4 cups chocolate chips
½ cup candy melts or white chocolate
2-4 tsp cannabis sugar
Marshmallows
Instructions
Start with melting your chocolate chips over hot water. For this, you will require a double boiler.
Time to add your cannabis sugar and stir it into the chocolate until the sugar dissolves.
Now fill your molds with the help of a spoon about ½ full leaving some space for other ingredients.
To form the shells, use a teaspoon to stick and swirl the chocolate around the corner. Make sure it has no holes or else it will not be baked right.
Now put them in the freezer and wait for 20 minutes. Take them out firmly, make sure the molds don't break.
Use some marshmallows to pack that half shell left after which you need to put your dry hot cocoa mix over the top.
Finish making the bombs by finally covering the bombs with leftover melted chocolate.
For decorating and a mixed taste, use some melted white chocolate and slide it gently with the help of the spatula.
Sprinkle some of the leftover cannabis sugar to enhance the taste.
Get yourself a half glass of milk and drop your chocolate bombs inside, enjoy your choco- high time!
Pro tip:- These bombs are superlicious if you dip them in melted chocolate one last time after taking them out of the freezer or you know what? Nutella always comes to the rescue.
Conclusion
There are ready to eat edibles available in the market for your convenience and ease. But, hey if you wish to make some of your own, it is super fun too. With numerous edible recipes, there is a lot to be creative about. Never stop experimenting. Use the internet or a recipe book or talk to someone who knows about it. Take your time, follow the instructions and enjoy your mouth filling candies. Have fun!