If you are trying to figure out how to get marijuana in DC, then you have hit the right place. In this article, we have covered everything that you need to know about how to buy safe, reputable weed in the city. Let me tell you, Marijuana is totally legal for adults in the US capital, Washington, DC. But that does not mean you'll find them as easy as in other states of the US such as in Los Angeles, Denver, or Seattle.
After the enactment of Initiative 71 in 2015, the retail selling of marijuana in DC is prohibited. However, this does not mean a complete ban on cannabis. Cheers! 71 still allows adults to possess, share and even grow to a limited extent. If you're a tourist who is in DC and seeking some marijuana for medicinal purposes, or simply to get high, these are some of the ways through which you can find marijuana in DC very easily. But before possessing it, one must know the legal fundamentals of Initiative 71.
What Is Initiative 71 And Guide to Adult-use Marijuana Laws in DC?
Initiative 71 legalizes the possession of a minimal amount of Marijuana for personal use. According to the law, adults who are 21 or above can:
Grow up to 6 marijuana plants, out of which 3 can be mature ("flowering") at a time.
Can possess only up to two ounces in Public.
Can share with another adult of 21+ up to one ounce, but selling it to others is still prohibited.
Smoking in public is completely banned. If caught, you'll be charged $25 as a fine.
Interestingly, one can also get back their weed from the station if caught smoking in public with less than two ounces.
This law is specific to the areas that DC owns. Marijuana is considered illegal by the federal government, and approx. 30 % of the District comes under it such as Government buildings and national parks, and roads.
Where to Find Weed In DC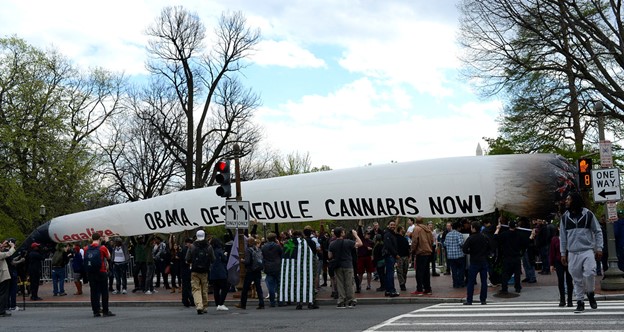 1. Shop at Regular Storefront:
Multiple weed stores in DC sells regular items. These stores are one of the best and direct sources to get weed legally. Unlike other ways, one thing that is best about these locations is that you don't have to have a prior appointment. Get in there, make your purchase, and get out. These stores are usually open during normal business hours, so there's no rush.
You can easily hang out for a while and then make a purchase. Always remember, weed is not the item that you are purchasing, instead it is a pair of pants, shoes, or other accessories. Weeds are the complimentary gift that you'll get after you purchase these items. Of course, you'll pay higher than expected but this is one of the safest and the best ways to get weed in DC.
Order Delivery: – If you can order food online-why, not marijuana? Yes, it is the best way to get marijuana in DC. If you are among one of those lazy lads who prefers to stay at home rather than roaming around, then this is simply the best way for you. All the buzz, peace in the air, District Connect, Purple penthouse, District Chief, and Lab tested cannabis though are some of the sites that you can visit and get it delivered at your doorstep.
2. Shop at Local Smoke Shops
If visiting a regular storefront or delivery service isn't working out for you, worry not! There is always an alternative and a standard way. There are ample smoke shops in DC that offer cannabis as a gift. However, there are so many which don't. It is advisable to call them and ask what sort of gift policy they have. Check out these local smoke shops below: –
3. Attend DC Weed Events/ Pop-ups:
Even though it may look prohibited in DC, marijuana has now become a culture of the city. Every night, several parties of weed events are organized around the city. However, to be a part of such events, you'll have to be over the age of 21, but not necessarily a DC resident or a medical marijuana patient for that matter.
All you need is an invitation by text from the host sending the info and the address. These events are generally organized in private property, bars, restaurants, or nightclubs, so it's a great way to meet and network while also testing the Steller post the meeting.
4. Meet-ups:
Meets-ups are similar to delivery; however, it is the brands who will tell you the meet-up location more than often in front of a coffee shop or any restaurant. Visitation unfamiliar with the city can find it easy, also you can ask a regular brand to suggest an ideal place to meet. Tell them you are a visitor, they might help you to locate the map. Some of these meet-up brands are also available on Instagram and other social media networks.
5. Pick-ups:
Pick-ups are quite similar to the storefront. It involves meeting the brand at a private indoor location, like a hotel room, Airbnb, apartments, or at any similar place. One needs to have an appointment to meet. This is one of the best ways to get marijuana in DC as you get ample time to ask questions and check the quality before you purchase.
One can also schedule an appointment 1-2 hours prior but fixing an appointment a day earlier is a good idea, especially when you are a visitor. However, in recent days due to the ongoing pandemic, they have switched into a curbside Pickup facility.
Where Can I Smoke In DC?
We're pretty sure, by now you have understood and got the marijuana in your pocket. But what's next? Thinking where to smoke? Well, smoking weed in public is legally prohibited. If caught, you might have to bear the brunt of paying $25 so long as you are on land owned by DC and not federal. That is why there are some hassle-free options you can choose from.
Cannabis Lounges: – If you are a visitor who is having a really tight schedule but still wants to try out the DC weed in a safer environment, Lifted is a place you should check out. Situated at 2622 Georgia Ave NW, it is a private in-house cafe. There is a provision to book your appointment 15- or 30-minutes prior. Also, if you have got no weed, Lifted I71 is an ideal place right across the hall.
Marijuana Tour: There are multiple tours that happen in and around the city. They will pick you up and drive you around the Nation's Capital while you enjoy the marijuana. You can book individually or with someone special on your special day. Sometimes they add a special destination during some special occasion or month. Lucky Chuckie Tours is one of them.
Conclusion
Hence, post the enactment of Initiative 71 in 2015, the retail selling of marijuana in DC is banned but that does not mean you won't get them at all. There are not one but multiple ways to get cannabis in DC. Some of the best ways are to shop at regular storefronts or at local smoke shops.
You can also attend DC weed events or pop-ups. In case you find these ways difficult, you can always go for a meetups and marijuana Tours which are common in DC. However, it is good to know the legal fundamentals of Initiative 71 before purchasing cannabis from any source.