There are many ways to consume weed. As it gradually becomes legal, more and more people are keen to try it. If you do not wish to smoke but want an edible alternative then weed cookies are a perfect choice. They're delicious, easy and fun to bake. Every celebration is incomplete without some cookies around the table. So, why not try something new with these amazing weed cooking recipes. These cookies can be gifted around the holiday season too!
Tips to Keep in Mind While Baking Cookies
1. Picking the Right Strain
Picking the right strain is very important. It depends upon your expectations and mood. If you wish to be energized and motivated throughout the day you may try Sour Diesel, Sativa. Alpha Express, White widow or  candyland strains however if you're looking for something that relaxes you, you can consider strains like- Bubba Kush, Jack Herer, Blue Dream etc.
2. Checking the Potency
Although each strain incorporates a varied potency. As beginners, you can go with around 15 mg of THC per cookie. You can use online potency calculators to search out the precise quantity that goes into each serving.
3. Decarboxylation
Weed is commonly smoked because raw weed is non-psychotic and needs to be burnt or heated to produce euphoria. Thus, to make weed edible it must be heated. The boiling temperature for THC is 314°F, but heating the cookies for too long can lower its potency also so you must preheat the oven up to 240°F.
4. Infusion
Infusing weed into cookies or making the cannabutter is one of the most important tasks of baking weed cookies. It is a long process that may take several hours but you must perform it with utmost sincerity as this is responsible for the final flavour of your cookies.
5. Ways to Get Sober
If you end up having too many cookies or cookies of high potency owing to some miscalculations, you can curb your high by consuming pistachios or other nuts. Drinking water, consuming peppercorn, lemon or a light snack can also help in easing the severity. Taking a shower or distracting oneself can also prove to be beneficial.
Equipment Needed
To make weed cookies you will need parchment paper, a whisker, an oven, two mixing bowls and baking sheets.
Ingredients
To make weed cookies you will need:
2 cups of All-Purpose Flour,
2 Cups of Chocolate Chips,
1 Cup of Cannabis Butter,
1 Cup of White Sugar,
Cup of Refined Sugar,
Eggs,
1 Teaspoons- Vanilla Extract,
1 Teaspoons- Hot Water,
1Teaspoon- Baking Soda, and
1/2 Teaspoon- Salt
*These ingredients are for 24 cookies, you can increase or decrease the quantity according to your servings*
Making of Cannabis Butter
You'll be needing cannabis butter for this recipe. Its potency can be increased or decreased as per your wish. In this recipe, the potency shall be around 42 mg. If you do not have cannabis butter you can make it on your own.
Equipment– For this, you will require an oven, double boiler, baking tray, parchment paper/tinfoil, cheesecloth(optional), strainer, hemp wire or cooking twine.
Ingredients– 1 cup butter, 7-14 grams of raw cannabis (you can increase or decrease the quantity as per the potency you want)
Instructions for Cannabis Butter
Decarboxylation of Cannabis: Grind up the cannabis and place it on a baking sheet covered properly with parchment paper. Place it in the oven for about an hour or 45 minutes. The oven temperature is 240°F.
Method of double boiler-Fill up the bottom of the container with water and place another bowl over it. The water level should touch the bottom of the second bowl. Let the water boil.
Once boiling, turn the heat on low and add the butter. After the entire butter has melted you can now add your desired cannabis.
You will need to let this cook on low for 2 to 3 hours, stirring every 15 minutes or so.
After 2 to 3 hours take it off the heat and let it cool. Put the strainer or cloth over a container and let the butter move down while raw cannabis remains above the sieve.
Put the container in the fridge until the butter hardens and cools down.
Optional- If you feel that there are some remains of plant or other impurities, you can strain the butter once again into another container.
Instructions for Making Weed Cookies
Preheat your oven to 350°F.
Cream cannabis butter and sugar in a bowl. Add the eggs to the bowl while stirring.
Pour a few drops of vanilla essence.
Dissolve baking soda in hot water and then add it to the prepared mixture.
In a separate bowl, sift flour and salt.
Mix the contents of the two bowls and stir well.
Finally, add some choco chips according to claim your taste ● Bring in your baking tray and cover it with parchment paper.
Slowly, place cookies evenly using a large spoonful of dough on the tray. There should be about 24 cookies.
Bake for 10 minutes in the preheated oven or till the edges become brown.
Let it cool, and your edible weed cookies are ready!
The total time to bake the cookies should be approximately 30 minutes.
Nutritional Value
Calories: 273kcal
Carbohydrates: 40g
Protein: 3g
Fat: 12g
Saturated Fat: 7g
Cholesterol: 36mg
Sodium: 180mg
Potassium: 36mg
Fibre: 1g
Sugar: 27g
Vitamin A: 290IU
Vitamin C: 1mg
Calcium: 32mg
Iron: 1mg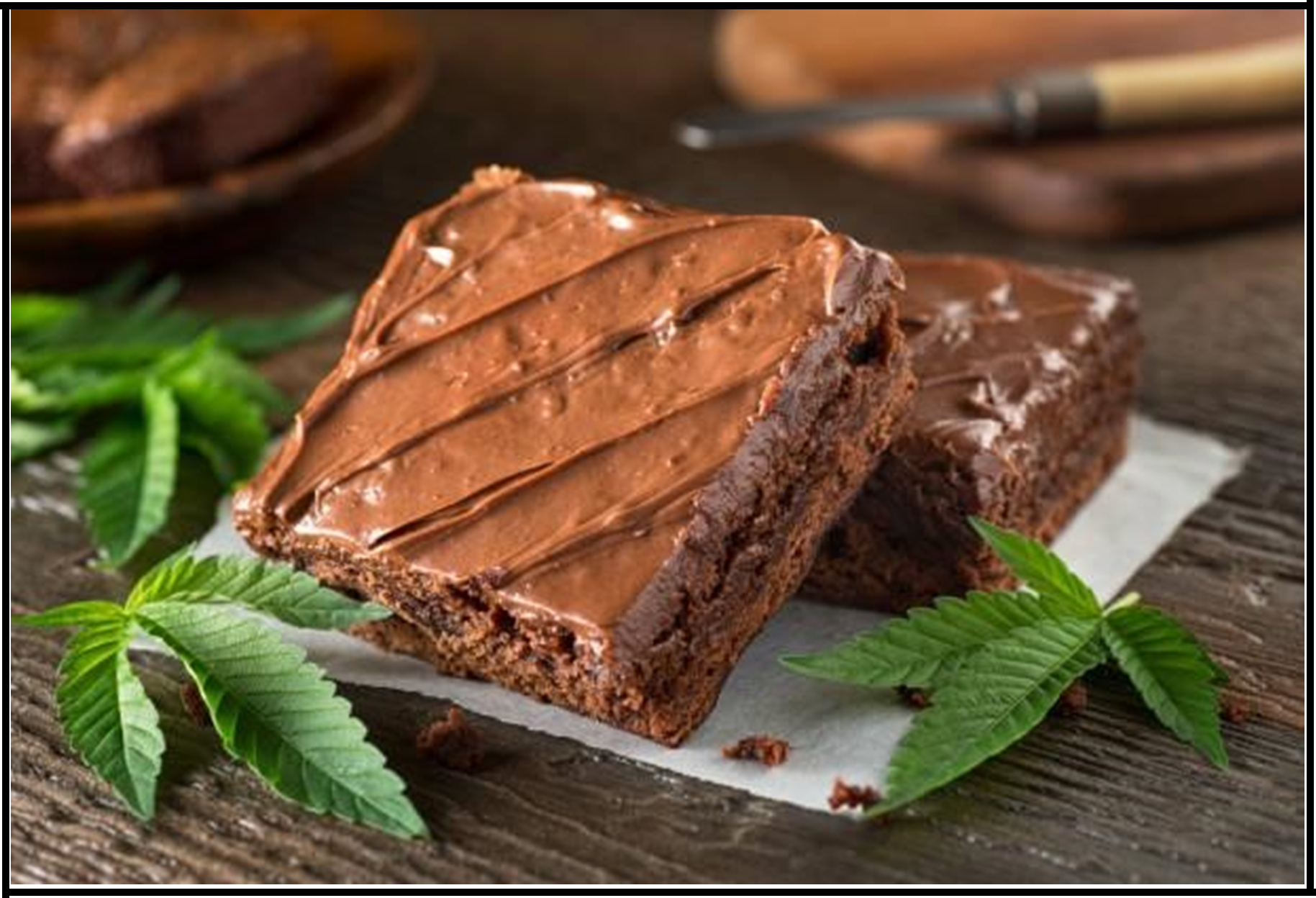 Benefits of Weed Cookies
Pain Management – These weed cookies can help reduce pain in the body. The relief from edibles lasts longer. It relaxes the muscles. It can be used by people who suffer from arthritis, cancer pain or any other kind of body fatigue.
Anti-seizure Effects – Some researchers suggest that consuming weed cookies can help in controlling seizures. It is also found to control certain epilepsy syndrome symptoms too.
Anxiety Relief – Consuming weed cookies can help in reducing anxiety and calm your mind. It can give a sound sleep as well that further relaxes the mind and body.
Less Risk of Lung Problems – Smoking weed can result in some serious health hazards. As we inhale weed, it impacts our lungs adversely. However, consuming weed through cookies or other edibles minimizes the risk of any lung-related infections.
Easy availability – Weed cookies are easily available in the market as well. They can be baked at home also. They're much healthier and simple to consume as compared to smoking or vaping.
Endless Customization – These cookies can be customised according to one's dietary preferences. You can opt for ingredients according to your body type, which is not possible when you smoke weed.
Presence of Essential Nutrients and Vitamins – Cannabis are high in
vitamin K, C, iron, calcium etc that help your body meet their daily requirements.
High in Antioxidants – Weed cookies have antioxidants present in them that help our bodies fight against various diseases.
Conclusion
We can say that there are many different weed cookie recipes to choose from as per your preferences. They're a healthier alternative to smoking weed and provide numerous health benefits as well. Studies have also shown that these edibles can help in curing certain cancer symptoms too. Thus, if consumed in the right quantity the THC present in weed cookies can have a promising impact on your body.