"Safe doesn't exist. But electronic cigarettes are low risk compared to regular cigarettes. It's the equivalent of having a four-wheel-drive Volvo compared to a high-powered motorcycle with bald tires in an ice storm." – David Swear
What Are Vape Mods?
Vape mods or vaporizer mods are mechanical devices that rely on a fire button to ignite the firing coil and battery atomizer to heat the device. Hence, it does not work on any electronic circuits. Vape mods are popular because they produce more vapor and add a hint of flavor, emitting lesser hydrocarbons than during direct smoking methods.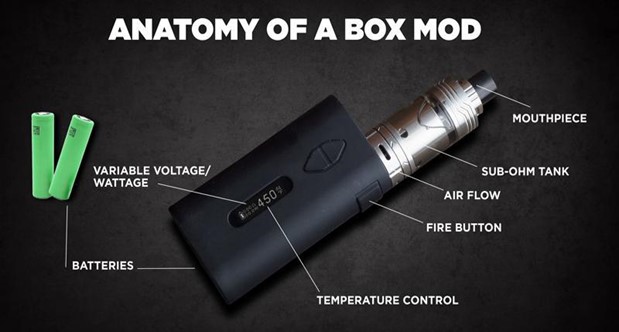 There are tons of vape mods in the market. Choosing one can be a tricky game, especially to find a balance between performance and price. Whether one is starting to experience vape mods or is simply looking for a cheap alternative, here is a list of the best cheap mods under $50, that are safe and reliable: 
Geekvape Aegis Max Is a mini version of its parent, Legend Mod. It holds only one battery, instead of two, which makes it super portable and light-weighted. It delivers good performance and gives a good battery life. It is enabled with an IWEPAL chipset which enhances the firing speed. It is the most advanced mod with a 0.96-inch display, spring-loaded 510 contact, and 2A micro USB charging.
Lost Vape BTB Box Mod comes with a maximum power capacity of 80 Watts. It has convenient temperature control features. It is skinny and works with only one battery, hence easily portable. It comes with 3 LED color customization options and 2A fast charging.
Lost Vape Grus Box Mod is popular for its considerable temperature control options. It is also greatly compatible with various sub-ohm tanks. The zinc-alloy shell of the Box Mod is notably attractive and the mod works on a single 18650, 20700, or, 21700 battery which is inserted by the bottom threaded battery cap. 
Lost Vape Grus Box Mod features compatibility with stainless steel, titanium, and nickel wires, and, along with the comprehensive temperature control suite makes the Grus Box Mod pair perfectly with rebuildable atomizer options for advanced users. This box mod is equipped with a 5-100W range and thus is best suited for those that do not like to build. It is available in several color customizations and 2A micro USB charging. It is one of the best cheap mods under 50$.
VooPoo Drag 3 is a wonderfully crafted zinc alloy construction with lots of overload protection. It holds two batteries, has a spring-loaded pin, and has an octal coil design. It provides a high range output and has a maximum power of 300 Watts.
Geekvape Aegis Solo is one of the top-rated single battery mods, known for its durable yet light structure. Aegis Solo has a maximum capacity of 100 Watts and works on a single replaceable battery. It uses Geekvape's newly designed AS-100 chipset which makes it more efficient and reliable. It gives the best performance and is featured with several temperature control and power modes, which makes it fun to experiment with.
Smoant Naboo is a dust-proof, water-proof, small vape mod that comes with a touchscreen! It is made in combination with both plastic and a metal alloy that makes it super durable yet lightweight. 
One can monitor the 2.4-inch touchscreen for temperature and power settings. It holds two replaceable batteries that come with an easy access magnetic back panel. It is one of the best box mods under 50 dollars that is equipped with gold plated 510, 2A micro USB charging, coil support, and temperature controls.
This amazing vape box for under 50 $ has an OLED screen and comes with a maximum power of 220 Watts. It has a similar magnetic battery door as Smoant Naboo and houses dual replaceable batteries. It has temperature control features. Its button firing with a 510 connection along with gold-plated terminals on the compartment of the battery makes it unique.
This vape mod is up on the list for the look and feels it has under 50 dollars. Powered with dual batteries, temperature control, and a 0.91 OLED display, Tesla Steampunk Nano is durable for the zinc-alloy metal body. The engravings are sure to catch an eye.
The SMOK Scar-18 is a huge sensation in the vaping community. Furnished with dual batteries and a zinc alloy body, it provides a maximum power of 230 Watts and has temperature controls. One can vouch for it as one of the best vape mods under 50$. The gorgeous metal device has a superior chipset and a comfortable handgrip. It has sliding backdoor battery access, with an OLED screen and lots of customized colors. The memory mode for vaping precisions has scaled the device into a revolutionary one.
For anyone who is switching from smoking to vaping, Aspire Breeze 2 can help act as a good starter kit. It has a built-in battery of 1300 mAh which makes it less fussy and at the same time, satisfies all vaping needs. It has a smooth metal body, available in many colors.
SMOK Stick V9 MAX has an enormous battery capacity of 4000 mAh. It can therefore work for long hours without charging, although it is provided with a micro USB port. It delivers a great draw because of its design and gives a maximum output of 60 Watts.
It is the trendiest vaping mod one can find within 50 dollars. Its unique pattern makes sure no two Geekvape Blades are alike. It works on dual batteries with various power and temperature control modes. It can fire a maximum wattage of 235 Watts and has a convenient 0.91-inch OLED display that shows necessary vaping information.
This dual battery mod is one of the best vape mods under 50 $ that is a pioneer on its own. With a super cool design and zinc alloy durability, this device has temperature controls and also operates through a computer app. One can fine-tune and customize its settings by sitting on their desktop! Thanks to the unique gene chip that provides efficient fast firing and a maximum power of 157 Watts.
This vape mod is lightweight and hence easily portable. It is famous for the fog it can produce during its use. It has all the necessary controls one looks for. Geekvape Lucid works on a single 18650 battery. It delivers a colourful display with attractive buttons on the outside and maximum power output of 80 Watts. It is available in a varied range of colors and the price can be as low as 32$!
Powered with dual replaceable batteries, this mod offers a maximum power of 200 Watts. It has gold-plated contacts that use a spring and has an efficient 2A charging support. It has a unique Child Resistant Top Fill Design and is CRC qualified. It is popularly available in Resin and Metal editions. The battery is long-lasting and fast charging, which makes it one of the coolest and best vape mods for under 50$.
How to Decide, When Choosing One Out of These?
While buying a vape mod for under 50$, one needs to consider the following points for the best experience:
The device has:
Removable batteries
Adjustable temperature modes
Available power modes
Lightweight and portable
Good reviews
Every individual vapor has a unique vaping experience and special needs and individual preferences. Gold-plated battery terminals and legitimate chipsets can vouch for the best vape mods under 50$.