If you are starting to build your RBAs, you need the right tools to get the job done instead of purchasing the items individually, as a good coil building kit will have everything you might need to build your coils quickly and efficiently.
Therefore, to get you started building your coils and vaping them as soon as possible, here is a list of the popular and the best coil building kits in 2021.
The kits come with all the essential tools you will need to position, properly wrap and protect your coil.
However, before that, let's learn what a coil building tool kit is and the tools that you may require and not require while building your coil.
What is a Coil Building Tool Kit?
The coil building tool kit is a collection of tools that you can use to build and install the coils in rebuildable atomizers. A typical tool kit comes in an easy-to-use carrying case with pockets and dividers to keep the tools organized and easily accessible.
Essential Tools for Coil Building Kits
Nevertheless, how close-packed a coil building tool kit can be, some essential tools must be within your coil building kits; unless you have some of those, ensure to check if the below-mentioned tools are included within the equipment or not at the time of buying it.
The essential tools are:
Ceramic tweezers are non-conductive and allow you to thrum your coils when you are looking for hotspots.
Needle tip tweezers – These are very beneficial for the cotton inside the wicking channels or the juice well of your RDA.
Scissors – It will be constructive for various things, but primarily it is advantageous for cutting the tails of your wicks.
Flush cutters – An ideal tool for the coil leads flush with the build posts.
Coil rods – Jigs or rods are excellent when it comes to wrapping your coils, although they usually come in various diameters.
Non-Required Tools
Even though you don't ultimately need the tools included in the list, they might become beneficial several times when you are building your desired rebuildable atomizer.
Yet, you can find that many coil building kits can include one or more of the below-mentioned tools:
Wire – The wires are rarely there within the kit, but it is helpful as a backup when you have a wire shortage.
Pliers – Overall, they are helpful but not required for coil building since many coil building kits include them.
Ohm reader – This is a friendly tool to have: however, many modern regulated mods can do the ploy.
Screwdrivers – Most of the rebuildable do have compatible screwdrivers, but it's ideal to have the larger ones.
As you are aware of what is a coil building tool kit and what kinds of tools are required and non-required while making your coils, now have a look at our list of the six best coil building kits of 2021 that we have put together to assist you in successfully building your coil with ease.
Best Coil Building Kits Of 2021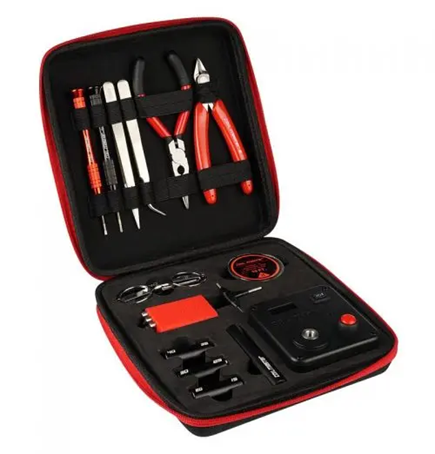 The Coil Master DIY Kit V3 has everything you need since this coil building kit has 10 feet of kanthal wire and Japanese cotton that enables you to begin making it quickly.
Also, a 510 Tab Mini allows you to measure the build resistance and serve a building platform safely and quickly.
There are flush wire cutters within the kit for trimming the coil legs perfectly, along with the stainless steel scissors and needle nose pillars.
In addition, the screwdrivers are pen-style Phillips and flathead that make it great, and the ceramic tweezers allow you to pulse the coils safely.
Coil Master DIY kit V3 is the best choice for anyone who wants to get started in rebuildable.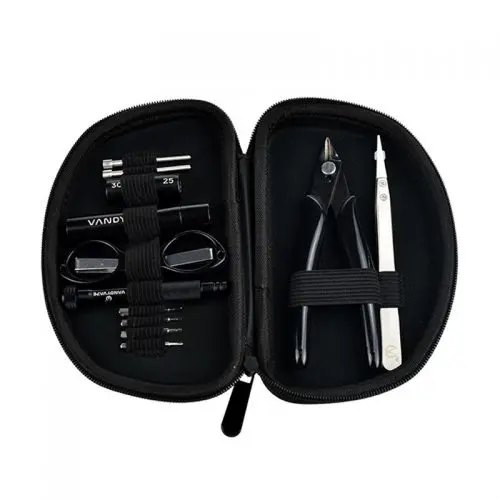 Vandy Vape Tool Kit Pro is perfect for action due to its portability and compatibility. It comes in a zipper carrying case and three screwdrivers, scissors, pliers, and ceramic tweezers.
All of the tools provided in the coil building kit are high quality, and through them, you can easily make the coils.
Moreover, you get two different coiling tools, flush cutters, and folding scissors, with the kit.
This tool kit Pro is straightforward that you can portable, and has everything you need.
If you are looking for a portable coil building tool kit, Vandy Vape Tool Kit Pro is something you should not miss.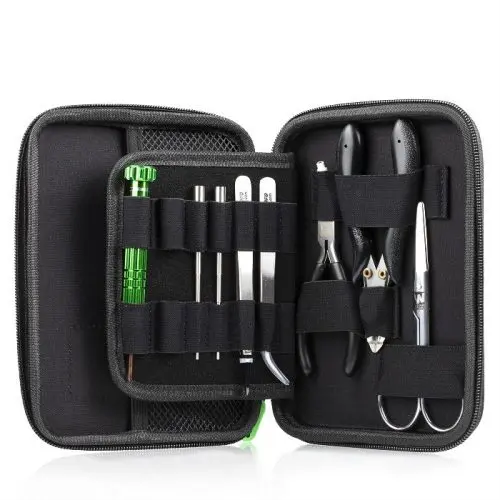 The Wotofo Vape Tool Kit has got everything for your rebuilding needs. Also, you get standard medical scissors for trimming your cotton and well-built flush cutters to trim your coils. And you also get a pair of ceramic tweezers.
This coil building kit has four-size coil Jigs that permit you to quickly wrap up the coils in four unique inner diameter sizes.
The kit comes in a waterproof bag with a zipper closure.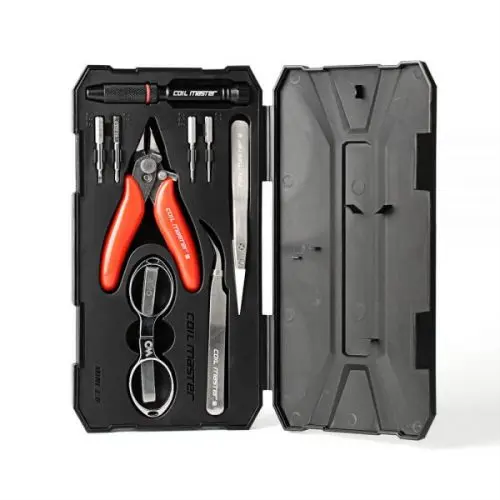 It is one of the most durable coil building kits with a portable case that is temperature resistant and corrosion.
The kit includes stainless and ceramic tweezers for easy wick and coil maneuvering.
Additionally, other tools such as wire cutters and multi-functional screwdrivers are also used for wrapping the coils up to four different diameters.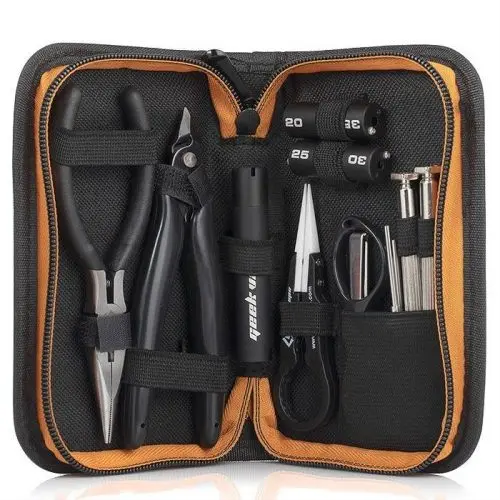 The tools inside this coil building tool kit are high quality with a lightweight and portable carrying case.
In this kit, you will get all the essential coil building tools such as needle-nose pliers, folding scissors, pliers, ceramic tweezers, and screwdrivers.
You also get four winding roads to wrap up your coils in different diameters quickly.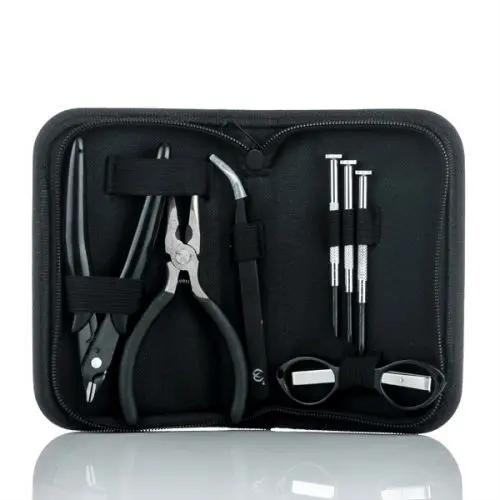 If you are running low in budget, Vandy Vape Essential DIY Tool Kit is the perfect fit for you, although it may not have some goodies in it in some of the other kits on our list.
Nonetheless, you get access to everything you need to start building your coils.
In the kit, you get ceramic tweezers, pliers, flush cutters, as well as three different screwdrivers with a pair of foldable scissors.
Conclusion
As we are all aware, RBA's stand for rebuildable automatic stabilizers, which may signify that you can build your coil for the stabilizer and add your wick to it. It is not only a cheaper option compared to manufactured locks.
It can also vape a lot higher amount of power and is unlikely ever to leak, making switching the flavors a lot easier when they are dropped onto the coil.