With the legalization of weed in several countries, weed-growers have all geared up to escalate the production of numerous marijuana strains to yield optimum efficacy. The stronger a weed strain is, the more elated you will feel after taking a puff. If you are a regular cannabis user or enthusiast, you will want to enjoy the essence of the strongest weed strains out there.
How to Determine the Strength of a Cannabis Strain?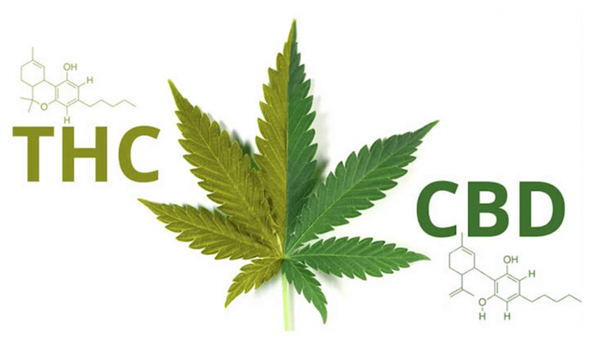 Different marijuana strains contain different levels of THC and CBD. THC, tetrahydrocannabinol, is a psychoactive compound found in marijuana that leads to feelings of elation, relaxation, and euphoria, determining your level of highness after puffing once. The highest THC percentage flower contains around 30% of it, which is yet to rise to 40% or more.
CBD is one amongst many other compounds found in marijuana, widely known as cannabinoids. It is not a psychoactive compound and thus doesn't produce any significant changes to the body but it has remarkable health benefits. The strength of a cannabis strain is generally determined by the level of THC in it.
The 7 Highest THC Content Weed Strains 
1. Grease Monkey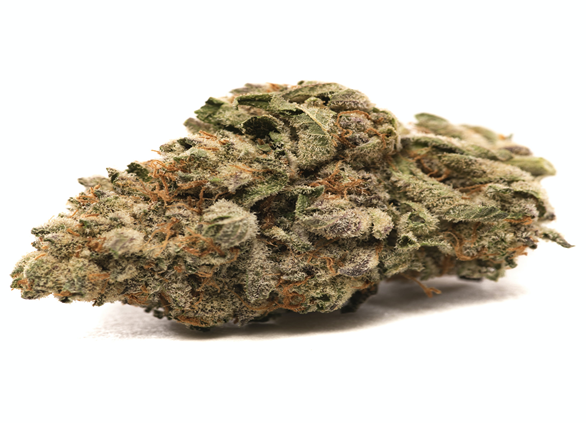 Grease Monkey is a hybrid marijuana strain invented by Exotic Genetic, a famous marijuana breeder, by combining two strains of GG4 which is an Indica dominant strain, and Cookies & Cream, which has a 50-50 balance of Indica and Sativa. It is frosty and hairy with a greenish-white appearance, having a sweet vanilla-like flavour, releasing a pungent odor.
The effect of Grease Monkey slowly kicks in, leading your body into an arena of relaxation and creating a calming sensation in your body and mind. A moderate dose of Grease Monkey can work as a mood uplifter and put you in a state of mental highness. Its sedative nature can improve your sleep cycle and can also act as a stress reliever as well as a pain reliever for headaches and inflammations.
Percentage of THC – 25% – 27%
Percentage of CBD – <1%
Percentage of Indica – 70%
Percentage of Sativa – 30%
2. Pacman OG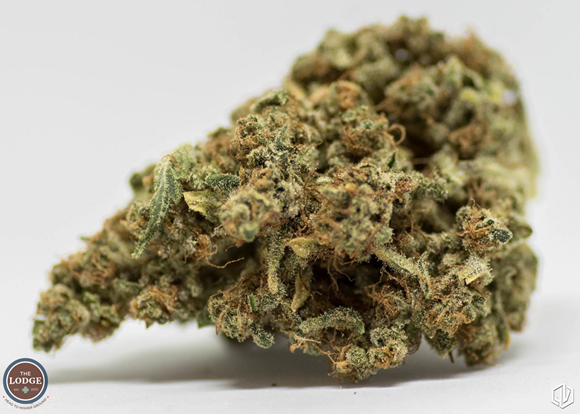 Pacman is a balanced hybrid marijuana strain that has a 50-50 balance of Indica and Sativa just like Grease Monkey. There is not much information available as to what strains were used to create this kind of hybrid. It is coated with trichomes and has airy green nugs with golden and orange underlinings, releasing an aromatic earthly and fruity smell.
It sets the body into a complete state of relaxation and energizes your mind, motivating your senses. It leads to an increase in appetite that will make you feel hungrier than ever. It also acts as a stress reliever against depression and tension. A dose of Pacman can help you boost up your spirits within a short time frame, ridding you of all your present worries and sorrows.
Percentage of THC – 25%
Percentage of CBD – 4%
Percentage of Indica – 50%
Percentage of Sativa – 50% 
3. Godfather OG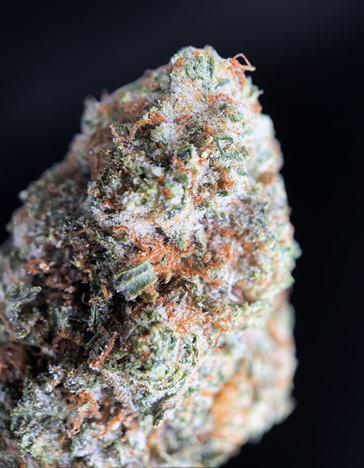 Regarded as the "King of all Kush strains", Godfather OG is an Indica dominant popular hybrid marijuana strain, created by crossbreeding Bubba Kush, L.A. Confidential and GDP, and is well known for the presence of strong sedative properties. It appears to be quite delightful to its users, having a frosty appearance and dense undergrowth of purple hairs, coated with crystal clear trichomes. 
Unlike other Indica dominant strains, Godfather OG on breaking releases a pungent odor with an earthy and piney smell as that of sweet grapes. Apart from that, it also has properties that help treat depression and nausea. Consuming it will lead your body into a euphoric state, making you incredibly high. It is ranked amongst the highest THC percentage flowers.
Percentage of THC – 30%
Percentage of CBD – 0.8%
Percentage of Indica – 60%
Percentage of Sativa – 40%
4. Chocolate OG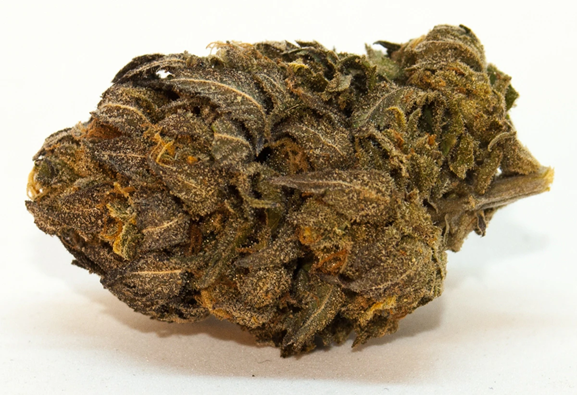 Chocolate OG as the name suggests, is a chocolatey strain, supposedly a descendant of OG Kush, and is a pure Indica strain, with no traces of Sativa, unlike most other marijuana strains. The name is given due to its dark appearance similar to that of chocolate.
It releases a sweet fruity aroma that instantly calms your nerves. Upon consumption, it makes your mind go dancing and drives you into a deep state of relaxation and euphoria. Due to its fruity taste, cannabis lovers enjoy smoking Blue Walker. Its calming effect is a quick remedy for your anxiety, stress, headache, or nausea.
Percentage of THC – 77%
Percentage of CBD – 3.96%
Percentage of Indica – 10%
Percentage of Sativa – 90% 
6. Banana Kush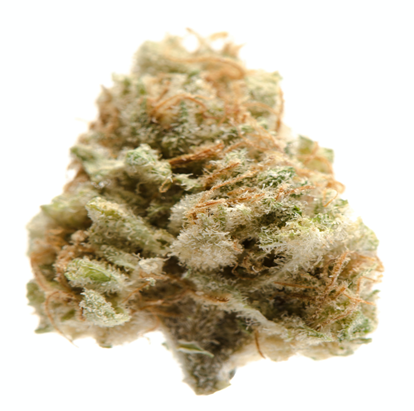 Banana Kush is predominantly an Indica dominant hybrid marijuana strain, formed by the crossbreeding of two other well-known strains: West Coast and Skunk Haze. Although it is an Indica dominant strain, it has a pretty good percentage of Sativa in it. Quite evident from its name, it has a sweet smell like that of a tropical banana.
It has a neon-green appearance and is usually preferred to be consumed at night since the Indica content induces a great deal of dizziness in you. Popular in the Californian World of Cannabis, Banana Kush offers a plethora of remedies to various illnesses like sleeping disorders and glaucoma, owing to the presence of sedative properties.
Percentage of THC – 18% – 25%
Percentage of CBD – 0.1%
Percentage of Indica – 60%
Percentage of Sativa – 40% 
7. Durban Kush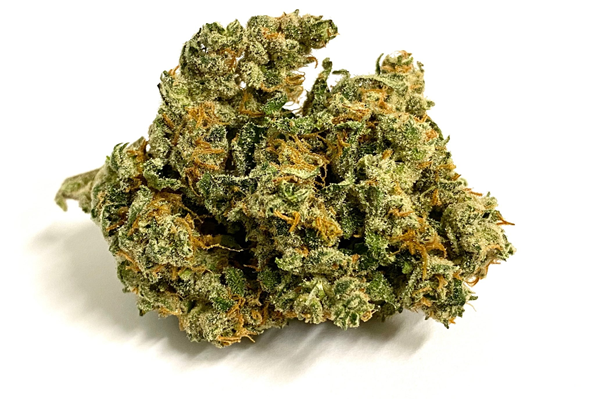 Durban Kush is a hybrid strain, having a well-balanced ratio of Indica and Sativa, created by the crossbreeding of two strains, OG Kush and Durban Poison. Rich in sedative properties, its consumption causes rocket-like euphoria and sleep-like relaxation. Durban Kush has green nugs with orangish hairs and oily trichomes on its outer surface that oozes out a sweet, citrus-like smell. It is also listed among the highest THC percentage flowers.
Percentage of THC – 24% – 25%
Percentage of CBD – 1%
Percentage of Indica – 50%
Percentage of Sativa – 50%
These seven aforementioned marijuana strains are the strongest ones out there in present times. Having a considerably high percentage of THC in them, these strains can be consumed by marijuana lovers both for medical and recreational purposes.