Are you planning a vacation with your family to have some fun? However, given the increasing restrictions and complicated laws often about medical Marijuana, many patients feel overwhelmed.
Is it okay to use medical marijuana with a prescription in another state where it isn't legal? Can you use your MMJ card in different states? Let's know all about it from this article.
The district of Columbia and thirty-three other states have implemented medical cannabis programs. However, you can face severe problems if you are traveling and need your medication in another state.
As all states have different laws, a medical marijuana card possessed by a patient in a state or place might be illegal in other states. Since Each state has its own Marijuana regulations, while some states have different requirements to pass for using medical marijuana legal card.
For example, In Ohio, a patient is required to get a legally signed recommendation by Certified Physician allowing them to use medical Marijuana to treat one or more qualifying conditions. After the patient receives their medical card and gets successfully registered with the state, they can only go to a licensed dispensary to purchase medication.
There are so many states that accommodate medical marijuana patients with different complications, it is pretty normal to be worried about, whether you will be able to use your medical Marijuana in a different state.
What Do You Mean by Medical Marijuana Reciprocity?
You are wondering what medical marijuana reciprocity is? It is a concept in which a particular state legalizes and accepts a medical cannabis card issued in a different state. Hypothetically speaking, if you possess a Missouri medical marijuana card.
You are safe to travel to California and use your state's MMJ card to purchase marijuana on a cannabis card account at a dispensary since California follows the medical marijuana reciprocity practices in its state.
Many states choose to legalize out-of-state marijuana certifications. Suppose you are going on holiday to one of these reciprocal states. In such cases, police Authorities can also spare a person from criminal liability if you show your card when stopped for possession- assuming that you are carrying cannabis per the state's law.
Some states that accept out-of-state medical cannabis cards:
Arizona
Michigan
Nevada
New Hampshire
Oklahoma
Oregon
Alaska
Arkansas
California
Colorado
Pennsylvania
Rhode Island
Washington
Washington D.C.
Hawaii
Maine
Massachusetts
In many cases, medical marijuana states will allow you to use your card to enter into dispensaries to purchase your medication. Few of the conditions tend to be more lenient about this than others.
States like California, Colorado, and Nevada aka recreational use states. You won't be asked to show your card in these states unless the law restricts you from purchasing recreationally. Let's say that you are 18 years old and going to a state where recreational use is limited to adults over 21; you will need to keep your card on hand.
You will usually be needed to legally register as a patient in the visiting state and receive an out-of-state medical marijuana card. It is always advisable to travel with comprehensive research about the applicable medical laws of the state you are visiting.
State V/S Federal Law
Traveling with cannabis comes down to federal vs state law. Since federal laws are above to state, one cannot carry cannabis across the state even with a permit. Sadly, because Marijuana is still classified as a Schedule, I drug- which means selling, purchasing, and possessing the substance is a criminal offense.
Can I Take my Medical Marijuana card Across State Lines?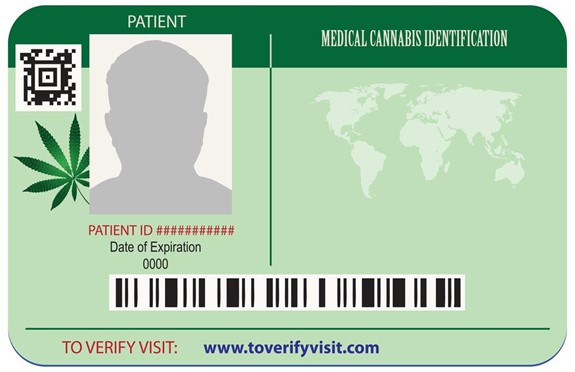 The straightforward and simple answer is a 'no.' You cannot take medical marijuana across state lines even if they legally allow Marijuana. It's a federal crime to tote controlled substances across state lines. Because it is recognized as a Schedule I drug by DEA. You would directly violate the Controlled Substances Act.
Traveling by plane is especially problematic-Federal agents. As the transport security administration oversees the airport security Though TSA agents aren't necessarily looking for Marijuana, they must report it to authorities if they find it. In some cases, the authorities might confiscate your medication and send you on and about your day. In another scenario, you may face much more severe penalties. Your best bet is to leave your medicine at home.
If luck works in your favor and you end up in a state with medical marijuana reciprocity, you will probably be able to purchase your medication. However, if it is illegal in a state, you cannot bring your legal, medical Marijuana into Maine. And you cannot even take back the medical Marijuana that you buy legally in Maine.
Using And Buying Marijuana with An Out-Of-State Medical Marijuana Card
Alaska
Alaska allows its visitors to have both recreational and medical Marijuana. Out-of-state medical marijuana cards aren't required, but adults over 21 can purchase cannabis at a recreational dispensary.
Possession limit: 1oz. usable;6 plants (no more than three mature)
Arizona
Arizona permits the visiting patients to use their medical marijuana cards; however, non-residents cannot purchase cannabis from a dispensary.
Possession limit: 1 oz usable; 6 plants
Arkansas
Arkansas does accept out-of-state medical cards. Visitors must complete the out-of-state registration and pay a $50 non-refundable fee. If they are approved, then the visiting patients may purchase from AR dispensaries for 30 days.
Possession limit: 2.50z usable per 14-day period
California
California has also legalized the consumption of recreational Marijuana. The Visitors can now apply for a California medical cannabis card if they need it after arriving in the state. Unfortunately, it can take 30 days to process, and you will need documentation with you.
Possession limit: up to 28.5 grams of flower and up to 5 grams of concentrate
Colorado
It has authorized both medical and recreational cannabis up to 1 oz for personal use. However, it doesn't capture people with out-of-state-MMJ cards.
Possession limit for non-residents= 1 oz
The possession limit for residents with a medical card= is 2 oz.
Hawaii
Allows out-of-state patients to try for a registration card for use in Hawaii. You can apply before 60 days of visiting the state through an online registration system, and the card is valid for two to 2 months. You are required to carry a copy of your MMJ card or medical paperwork, an ID, and a $50 fee. Or the Patients can even purchase it from a certified dispensary or medical shop.
Possession limit= up to 4 oz. of cannabis for every 15 days.
Illinois
Adults 21 and older may have cannabis and purchase cannabis products in licensed stores. Non -residents may buy 15 grams of cannabis, 250gms of THC concentration in a marijuana weed product, and 2.5 grams of the concentrated products.
Possession limit: 15g usable;2.5 hash/concentrates
Maine
They only need to get their state-issued registry identification card or similar documentation.
Possession limit=2.5 0z; up to 15 plants
Michigan
Michigan has also legalized the use of both medical and recreational marijuana. It's the responsibility of a particular shop to decide to sell to those with out-of-state cards.
Possession limit: 2.5 0z; 12 plants
You must present the following: a valid certification from your treating medical provider, a valid certificate or card from your state, and a valid i.d. or driver's license issued by your state.